2012 Michigan Helmet Laws and the Impact on Rider Safety
While it's reported that motorcycle accidents have decreased in recent years, fatalities are still on the rise. In 2012, Michigan repealed its helmet laws — and the changes were not for the better. Since 1969, every motorcyclist was required to wear a helmet at all times, but under certain circumstances, riders are permitted to ride without a helmet if:
They are 21 or older.
Pass a safety course or have rider experience for at least two years.
Carry $20,000 in medical insurance.
This infographic depicts how Michigan's 2012 helmet law has impacted rider safety and has increased motorcyclist fatalities: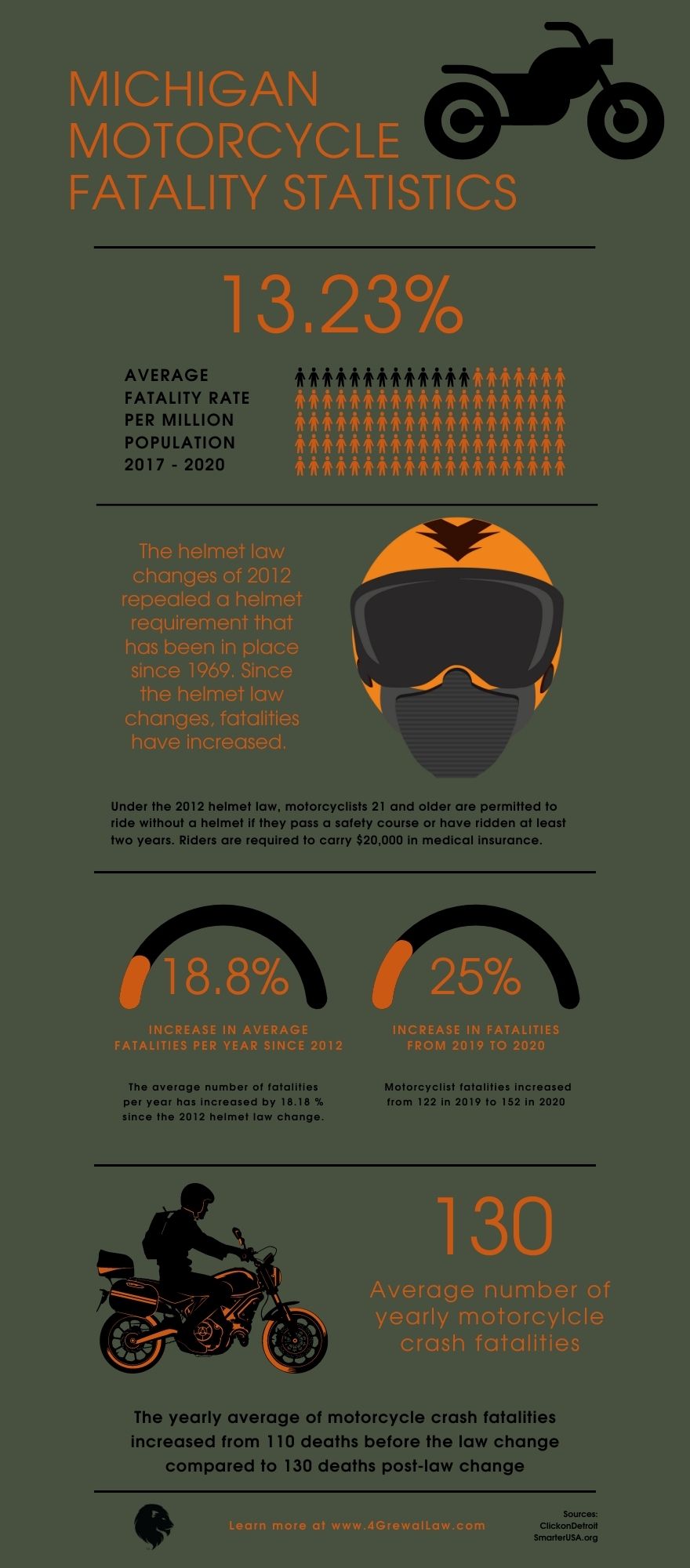 13.23% - Average fatality rate per million population from 2017 - 2020.
The average number of fatalities per year has increased by 18.18 % since the 2012 helmet law change.
Motorcyclist fatalities increased from 122 in 2019 to 152 in 2020.
The yearly average of motorcycle crash fatalities increased from 110 deaths before the law change compared to 130 deaths post-law change.
Injured in a Motorcycle Crash? Grewal Law PLLC is Here For You.
Sustaining a severe injury after a motorcycle crash is a devastating event. Not only is the healing process long and painful, but it can put financial strains on the victim and their family as well.
After suffering a catastrophic injury due to the carelessness of another party, Grewal Law PLLC is here to help you hold them accountable for their actions. Know that you are not alone. Our team of attorneys will protect your rights and fight to ensure you receive the best possible outcome.
Call Grewal Law PLLC at (888) 211-5798 to schedule a consultation to learn more.
Sources: