Lawyers Weekly: MSU Settles with Survivors of Nassar Abuse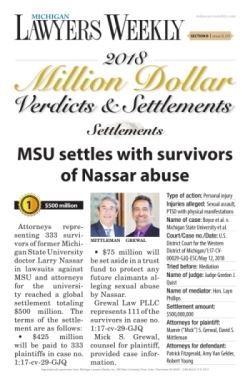 Attorneys representing 333 survivors of former Michigan State University doctor Larry Nassar in lawsuits against MSU and attorneys for university reached a settlement totaling $500 million. The settlement are as follow: $425 million will be paid to 333 plaintiffs. $75 million will be set aside in a trust to protect any future claimants alleging sexual abuse by Nassar. Grewal Law, PLLC represents 111 of the survivors in this case.
Read more here in Michigan Lawyers Weekly.
Posted By
Grewal Law PLLC
Categories: