Michigan Gets a "C-" Preterm Birth-Grade
The March of Dimes recently released their 2021 Report Card which highlights the latest key indicators to describe the state of maternal and infant health in the United States, including factors such as infant mortality rates and pre-term birth rates. Overall, the United States received a C- with a preterm birth rate of 10.1% between 2010 and 2021. Pre-term births can lead to complications such as prolonged jaundice, infection, and oxygen deprivation as well as birth injuries such as cerebral palsy. This infographic illustrates the statistics related to preterm births and how Michigan fared.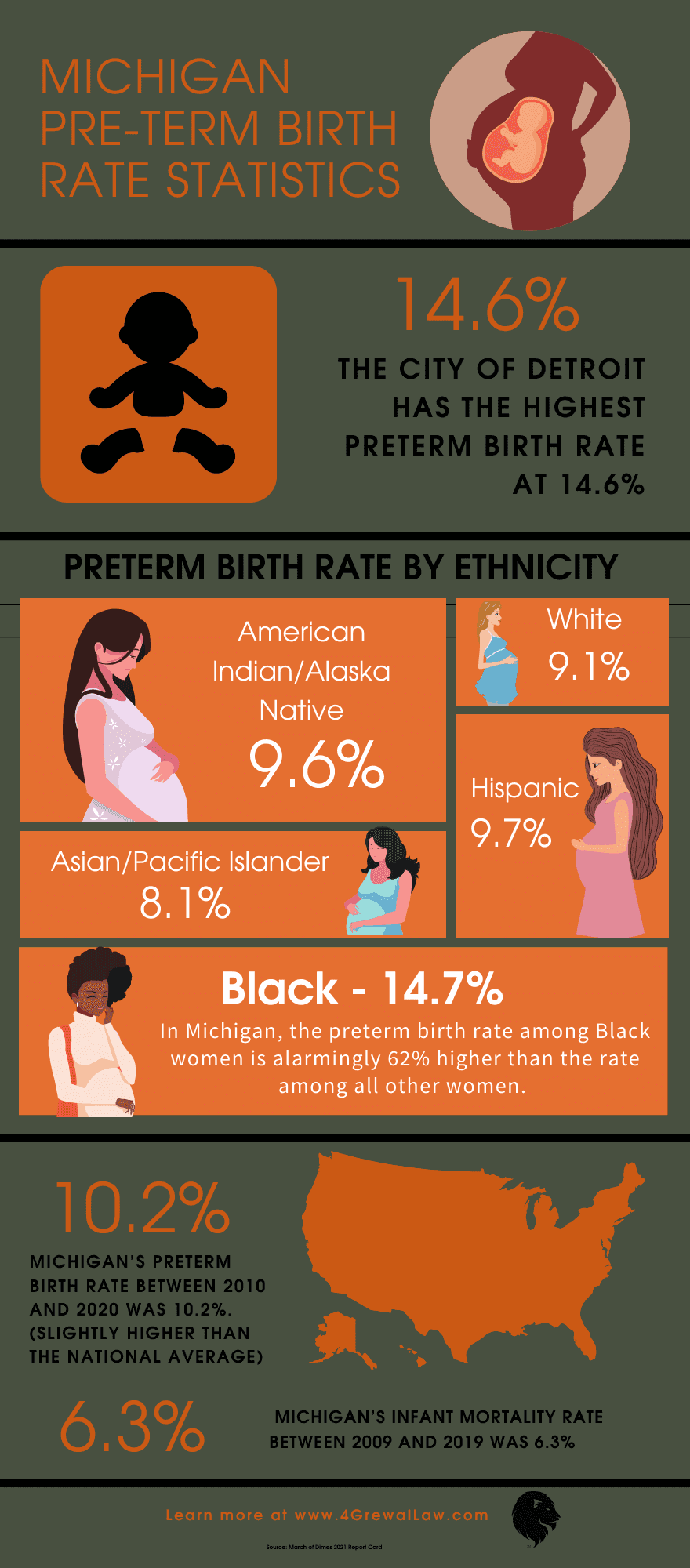 Michigan Pre-Term Birth Rate Statistics
The City of Detroit has the highest preterm birth rate at 14.6%
Michigan's preterm birth rate between 2010 and 2020 was 10.2% (slightly higher than the national average)
Michigan's infant mortality rate between 2009 and 2019 was 6.3%
Preterm birth rate by ethnicity
Black 14.7%
Hispanic - 9.7%
White - 9.1%
American Indian/Alaska Native -9.6%
Asian/Pacific Islander - 8.1%
In Michigan, the preterm birth rate among Black women is alarmingly 62% higher than the rate among all other women.
Learn How to Get Help After a Birth Injury
If your child suffered a birth injury, you are not alone and help is available. Our team of birth injury lawyers is here to support you through a difficult time. When unsure how to care for your child with a birth injury, we can be a source of support and guidance. We will explain your legal options and fight to protect your rights against the medical professionals that acted negligently and caused harm to your baby.
Learn if you are eligible to obtain financial compensation for your losses. Schedule a consultation with an attorney at Grewal Law PLLC by calling (888) 211-5798 today.
Source:
March of Dimes Yearly Report Card
https://www.marchofdimes.org/materials/March-of-Dimes-2021-Full-Report-Card.pdf