Testifying in court can be a stressful and overwhelming experience for many people. Fortunately, a 16-month-old golden retriever named Kory is ready to put her emotional support training to the test!
Kory Goes to Court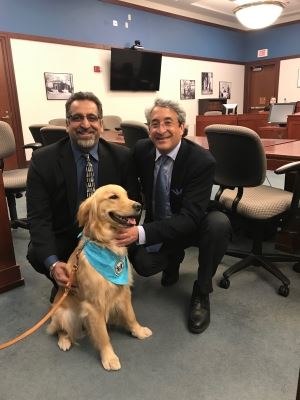 Kory was trained by the Canine Advocacy Program (CAP), a nonprofit organization that prepares dogs to provide special courtroom support to children who have been abused, neglected, or sexually assaulted. According to Dan Cojanu, the founder of CAP, Kory and her fellow canine advocates give "somebody power in a powerless situation. Kory's handler, Jessica Carls, a Victim's Rights Specialist, also believes that these dogs truly help children and adults relax when they're feeling anxious about testifying. Kory's calm demeanor, fuzzy face, and natural doggy cheerfulness comfort victims, giving them the courage and resolve to tell their stories in court.
The Ingham County Prosecutor's Office has been trying to "hire" Kory as an employee since last May. Finally, on February 13, 2019, Ingham County Chief Circuit Court Judge Richard Garcia told Kory "You're officially a good dog" and swore her in.
We Support Kory
All of Kory's expenses are being paid for by our very own attorneys, Mick Grewal and David Mittleman. After Kory was sworn in, The Lansing State Journal interviewed Attorney Grewal, who explained that he is no stranger to the benefits of employing CAP-trained canines. He is on the board of Small Talk Children's Advocacy Center, an organization that provides children with coordinated services during child abuse investigations. Their CAP graduate, Preston, had the important duty of comforting the victims of Larry Nassar when they had to testify against their abuser in court.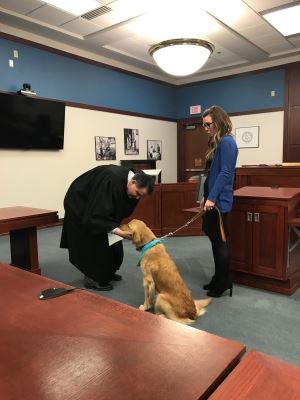 Attorney Grewal also told The Lansing Journal that dogs like Kory and Preston naturally sense when someone is in pain, and that their presence "relaxes a victim-survivor and allows them to be at ease." So, when our firm discovered that Kory needed a sponsor, it was an easy decision to make. Or, as Attorney Grewal states, "How could you say no?"
Grewal Law, PLLC is proud to support Kory and the services she provides to our community. So far, we've donated $5,000 to cover a years' worth of food, veterinary bills, and will continue to cover any of Kory's lifetime needs. It's the very least we can do for a dog that gives so much encouragement to people in their time of need.
Require Legal Representation? Schedule a Consultation Today
At Grewal Law PLLC, we provide compassionate and informed legal services to the survivors of sexual abuse and assault. If you require legal representation, contact our trial-tested lawyers to schedule a free consultation. We understand that it's incredibly difficult to speak out against a perpetrator, especially when it's a close friend, trusted authority figure, or beloved family member. However, you can rely on our team to guide you through each step of this challenging and emotional legal process. With our help, you can recover compensation that accounts for your medical bills, emotional distress, pain and suffering, and more.
If you want to learn more about your rights, please contact one of our attorneys at at (888) 211-5798 to schedule a free, no-obligation consultation.